Essential Diagnostic Tools
Smart- Versatile- Affordable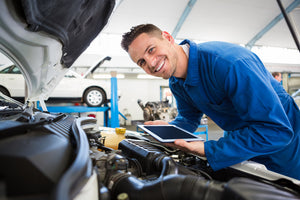 Gas Analyzer
The proprietary ANSED Exhaust Gas Diagnostics Software interprets the exhaust gas analyzer readings in seconds! The software uses a floating matrix formula for each gas reading, coupled with other diagnostic variables, to enhance the accuracy. Several possible solutions, in order of probability, are suggested with the first one the likely cause in approximately 75-80% of the situations.
Hi-Res Digital Video Scope Kits
One of the most practical applications for flexible video scopes is the DVSK-60 ART higher Resolution digital videoscope monitor, captures and inspects hard-to-reach spaces and cavities. The proper video scope will assist technicians and mechanics in effectively inspecting and recording visual remote inspection of parts that are typically difficult to reach.
SENSOR SIMULATOR
The HU31035 Sensor Simulator is the ideal tool to simulate and actuate the output signal from automotive sensors; frequency, voltage and test sequences.
It will help you in your diagnostic when scan tool diagnosis ends. Sensors, injector actuators will inform the scan tools that there is a problem, but Sensor simulator will allow the technician to know if the faulty operation is a faulty sensor a problem in the car computer, a defect in the wiring.
ABOUT US
ANSED Diagnostic Solutions is a vehicle diagnostic solutions company presenting innovative and labor-saving diagnostic tools, including electrical system testers, universal digital pressure testers, motorcycle/power sports diagnostic scan tools, exhaust gas diagnostic kits and professional video scopes for the automotive, heavy-duty, and powersport professional.
We are members of the important associations in the industry:
ETI - Equipment and Tool Institute
AMRA – Automotive Maintenance & Repair Association
SEMA – Specialty Equipment Market Association
The most recent awards for our innovative tools include:

PITA Innovation Award (2021) for the DVSK-45DC.
High Resolution Digital Video Scope with 4.5mm Dual Camera Probe.
PTEN Innovation Award (2022) for the DVSK-60ARTHigh Resolution Digital Video Scope with 6mm Articulation Probe.
And we are now contributors to TechForce Foundation, a non-profit organization with the mission to champion all students to and through their education and into careers as professional technicians.
Learn more about ANSED by clicking here.