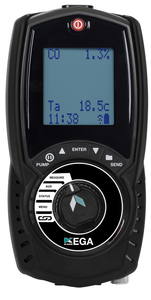 KANE-EGA1HR
KANE-EGA1HR CO (High Range) Exhaust Gas Analyzer
It is important that you register your new ANSED products within 30 days after purchase in order to activate the warranty. Fill in the form
California residents: Proposition 65 Information This product may contain chemicals, including lead, which are known to the State of California to cause cancer and birth defects or other reproductive harm. Read more
Overview:
Single gas analyzer, to measure CO, 0-10% / 100,000ppm, to test
engine CO emissions.
Vehicles without catalytic converters can be tuned for optimal performance to run cleaner and more efficiently.
Ideal for checking CO after carburetor, ignition, and air filter maintenance as well as tuning pre-cat classic cars, motorcycles, off-road and single-cylinder engines.
Classic car data manuals would often give you desired CO levels to meet manufacturers' specs.
Key Features: 
Rechargeable NiMH AA long-life batteries, supplied with USB1 charger
Illuminated display (7.5cm/3" diagonal) Rotary dial & 6-line display for ease of
use
Connect to KANE LIVE APP, free with a unit Store of up to 45 tests
Compact & rugged with a protective rubber sleeve & magnets for hands-free
operation Integrated water trap with replaceable particle filter
Document test results with optional KANE-IRP3 printer
10-year warranty when serviced & calibrated by KANE Care USA
In the ANSED/KANE-EGA1HR Kit:

KANE-EGA1HR 1-gas analyzer
EP1 high-temp stainless-steel emissions probe (4m/13ft length)
USB1 & AC charger
User manual
17820 carry bag